A while ago I discovered my go-to meal item – Eat Clean Chicken Muffins. I make two batches of these every week. They are excellent for lunch, dinner, or even as a quick snack.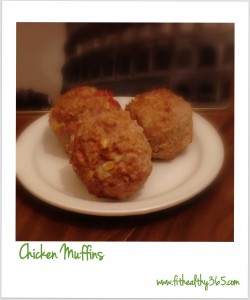 There are so many things to love about these chicken muffins:
– They are easy to make (takes maybe 15 min to prep… I watch a show while I chop the veggies).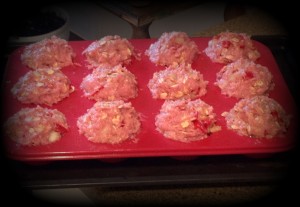 – They are handy to have around. I eat one almost every day or lunch (or a snack). It's nice to have something already made. I LOVE time-saving meals.
– The recipe is adaptable. You can use ground chicken or turkey. If you don't have peppers or onions, you can use celery, carrots, broccoli, mushrooms; any vegetables you have around will do the trick. You can play around with the flavoring. Add in any spices you like. In addition to the spices listed in the recipe below, I like to make a batch using a Mango Lime seasoning I discovered at Bulk Barn. Amazing!
– They are healthy. One muffin is only 200 cal, 30g protein, 3g carb, 14g fat. Paired with veggies on the side and/or healthy carbs like quinoa or sweet potato, it makes a complete meal.
– They are inexpensive. Seriously, one muffin costs about 50 cents to make! I buy the ground chicken at Food Basics where they sell 4 lbs (in 1 lb tubes) for $10.
I make two batches at a time, putting one batch in the freezer for the following week. By spending a bit of time on a Sunday cooking up some food, I've got lunches prepared for two weeks. That's my kind of cooking/meal prep!!
Ingredients:
2 lbs extra lean ground chicken (or turkey)
1/2 cup rolled oats (optional)
1 sweet pepper, finely chopped
1 onion, finely chopped
1/2 cup egg whites OR 1 egg
spices (your choice, but some ideas are parsley, paprika, cayenne, chipotle)
Instructions:
Mix all ingredients in a large bowl.
Scoop about 1/2 cup of mixture into each muffin spot.
Bake at 375 for 30 minutes.
Makes 12 servings.
What's your go-to meal? Share the recipe below!
FREE Download: Editable Pantry Basics Checklist
> SAVE TIME writing your grocery list. Avoid the constant re-writes.
> Use the Pantry Basics Checklist as the foundation of healthy eating.

> Make it EASY to eat healthy - ensure you have what you need in your pantry.
> Customize and tailor the list to your preferences.