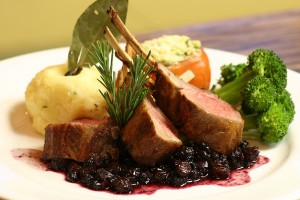 Holiday time can be stressful for people who are on a "diet" or who eat healthy/clean throughout the year. There can be a lot of pressure to pig out and indulge. Personally, I think how you want to handle the holidays is an individual decision and can depend on a number of factors. There isn't one way that's best for everyone.
The way I see it, there are 4 options for how to eat:
1. No holds barred. Eating unhealthy food in large quantities for a number of meals or days. This is one extreme.
2. Depriving yourself of enjoying some unhealthy food and sticking to a strict eating regime. This is the opposite extreme.
3. Allowing yourself one cheat meal over the holiday time but sticking to your "diet" the rest of the time.
4. Eating a number of unhealthy meals/food but choosing to have smaller portions sizes and saying no to certain things.
For me, I generally choose option 4. I like the idea of eating some special holiday food, but I make sure I take smaller portions of the less clean food and load up on veggies. However, like I mentioned it depends on certain factors.
For instance:
What are your goals? Are you training for a fitness competition or a race? In that case you should stick to your diet (maybe have one cheat meal). For example , when I was 3 weeks out to my figure competition I went to New York City with my sisters. I went to a grocery store as soon as I arrived and prepped all my meals for the weekend. I stuck to my diet except for 2 slices of pizza….I love pizza and couldn't pass up NYC pizza!!!

Maybe you're looking to lose weight. If that's the case, think about how you eat during the holidays will affect this goal.

Are you exercising over the holidays? I think if you're exercising over the break, it can give you a little more latitude to indulge a bit more than if you aren't exercising at all.
What's your regular workout schedule? Will you be back at the gym your first day after the holidays or will it take a few days? The answer to this question should play a factor in how you eat.
Ultimately, choose what's right for your situation. And make sure you enjoy the time with family and friends!!
Coach Lydia
FREE Webinar: Simple Strategies to Avoid Holiday Weight Gain
> Learn six simple strategies that keep the weight off
> Get tips on how to deal with social pressures about food
> Discover how you can eat delicious food without deprivation
> BONUS: Get the training notes and two healthy chocolate dessert recipes
Sign Up for Instant Access to the Training