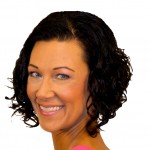 Hi There!
I'm so happy you've stopped by my slice of the internet.
My name is Lydia Di Francesco and I'm a Certified Personal Trainer located in Ottawa, Ontario.
My mission in life is to help people Eat Better. Move More. Build a Healthy Lifestyle.
The following are some guiding principles I follow/believe regarding fitness and nutrition:
• I prefer doing functional, full body movements using free weights and the cable machine. Let's get you moving and stronger in a natural way as opposed to isolated movements that you don't make in everyday life. These are also bigger calorie burners.
• I strive to create sessions that are efficient and effective; to get the most bang for your buck.
• I don't believe long cardio sessions are necessary or effective. Shorter, interval-style sessions are more effective and save you time.
• I promote eating whole foods; the less processed the better. I encourage clients to make a majority of their food from scratch and provide you with tips on how to do this in a timely manner.
• I adhere to and promote a principle of balance and moderation with eating. I don't believe deprivation is healthy but if you eat treats portion control is key.
I am a goal-oriented person and will train you in a way that I believe will help you achieve your goals faster. Once we've met certain goals, we'll make new ones!
I'd love to connect with you online. I provide helpful tips and motivation/encouragement on my pages.
Find me on: Facebook, Instagram, YouTube, or Google+
I also encourage you to sign up for your FREE 7 Day Fitness Kickstart Challenge!
To Your Best Health!

Mental health is a cause that is dear to my heart, therefore I have become a Member of the Women for Mental Health through the Royal Ottawa Foundation for Mental Health.

A Bit More About Me (the long version)
My debut in the fitness industry began when I decided to tryout to be a BODYPUMP (a full-body workout with weights) instructor at GoodLife. I'd often think it would be fun to be an instructor on the stage, teaching and motivating the members, so when a poster appeared for BODYPUMP tryouts, I jumped at the chance!
I passed the audition (became canfitpro certified as a Fitness Instructor Specialist and obtained my CPR C & AED certification) and in the spring of 2011 I became a certified BODYPUMP Instructor!
During my two years at GoodLife I also became a certified instructor for CXWORX, a 30 minute core workout.
Continuing to pursue my interest in health and fitness, I became a certified Personal Trainer Specialist. I love being able to help people lose weight, get stronger and become more healthy and fit.
If you had told me in 2010 (or earlier) that I would be in the kitchen on a regular basis (ie. a few hours every Sunday afternoon), cooking up healthy meals, I would have laughed out loud…literally! Don't get me wrong, I've always been a healthy eater who loves fruits and veggies, but I've never been someone who cooks.
I was what I'd call a "preparer". I would prepare sandwiches, cut up carrots, eat peppers like apples (I still do this), etc. In fact, I'm fairly certain I didn't use the oven in my house for at least a year after moving in!
Enter the Eat Clean Diet (actually it's a lifestyle, not a diet…). I first heard about eating clean when my friend was prepping for her first figure competition. (Little did I know then what was in store for me…see below). I was eating fairly clean already, but I really liked the idea of cleaning up what I was eating. Here are some of the eat clean principles:
Eat whole foods
Eliminate refined sugar
Eat five or six small meals a day
Cook your own meals
Eat a balanced meal of protein, carbs and healthy fat
Avoiding soda and other sugary juices and drinks
Avoiding high-calorie, zero nutrient foods (i.e., junk food)
Eating proper portion sizes

Drinking at least 8 cups of water every day
My interest in food and healthy eating lead me to take canfitpro's course on nutrition and wellness and become a certified Nutrition and Wellness Specialist. This course focuses on nutrition basics and teaches how to counsel others for change in their nutrition, physical fitness levels, and overall wellness.
As I mentioned above, a friend of mine participated in a figure competition and had asked me to help her out backstage. Long story short, she convinced me to train for the Ontario Physique Association (OPA) Ottawa Classic Figure Competition held June 2012.
Always up for a challenge, I decided to compete in the Figure category (more muscular than bikini, but not as muscular as bodybuilding) which meant increasing the amount of training I was doing and really really cleaning up my diet. It was quite the experience training for the competition…much more mental than I realized. However, the day itself was really fun and I came in second place for my category!!
Join the FREE 1 Week 15 Minute Exercise Challenge
Workout Smarter, Not Longer.
15 minutes is all you need.
Full-length workout video send directly to your inbox each day
Self-care mini-challenges
Daily reminder emails
Accountability and Support