Webinar: Simple Strategies to Avoid Holiday Weight Gain
Healthy Snack Ideas and Two Chocolate Recipes
During the webinar I mention some healthy snack ideas and two chocolate recipes – sugar-free chocolate dip and black bean brownies. Here's the link to download the document with this information.
http://www.fithealthy365.com/wp-content/uploads/2014/12/Healthy-Snacks-and-Chocolate-Recipes.pdf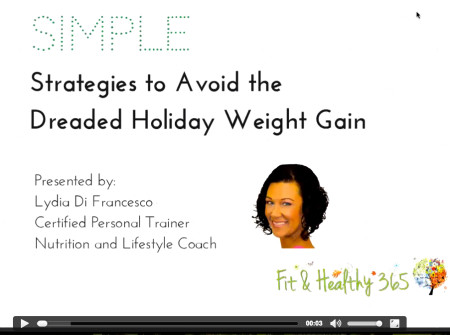 Watch now –> Simple Strategies to Avoid Holiday Weight Gain Webinar
Take advantage of my offer to chat!
Free 30 Minute Consultation
Start 2015 off on the right foot!
Let's chat! I want to hear about your goals and challenges and see if my services can help you.
Contact me to book your appointment.
Join the FREE 1 Week 15 Minute Exercise Challenge
Workout Smarter, Not Longer.
15 minutes is all you need.
Full-length workout video send directly to your inbox each day
Self-care mini-challenges
Daily reminder emails
Accountability and Support