As part of my quest towards a healthy lifestyle, I've been exploring do-it-yourself (aka homemade) products. I bought some tea tree oil and peppermint essential oil and looked around online for what I could make.
I found a recipe for a homemade air freshener (post to come) and one for homemade mouthwash.
It really couldn't be easier to make. It's alcohol-free and is significantly cheaper than any store-bought mouthwash.
All you need is water and peppermint essential oil and then something to put the mixture in. (I saved money by reusing a glass bottle).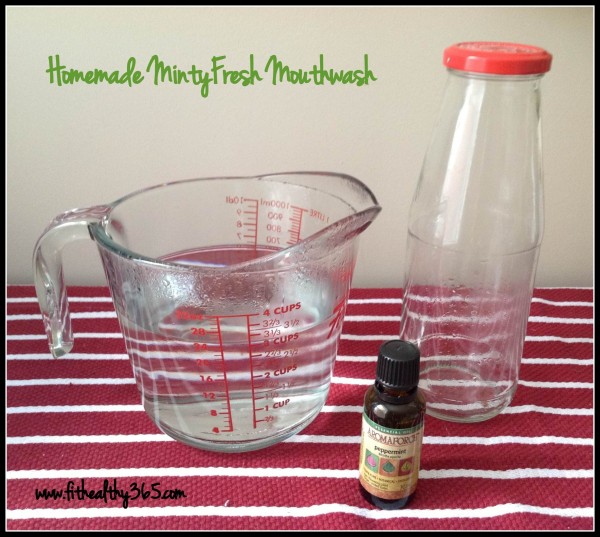 For the water, you can use distilled, filtered, or boiled water. To make things easy (and since I don't have distilled or filtered water) I just boiled some. I pre-measured how much water would fit in my jar — 3 cups. For every 1 cup of water, add in 2-3 drops peppermint essential oil. Be careful; the drops come out quickly!
Shake before each use. Do not swallow. Store in a dark cupboard or medicine cabinet (sunlight causes essential oils to lose their potency).
Benefits of Peppermint Essential Oil
excellent mouth freshener, antibacterial, anti-inflammatory, antifungal, antimicrobial, antiseptic, astringent
You can find essential oils at your local health food store (I got mine at Nutrition House), Amazon, and Mountain Rose Herbs. Click here to learn about essential oil safety.
YOUR TURN: What household products (cleaning, body care, etc) have you made? I'm planning on trying out homemade hand cream soon! Share what you've done, or plan to do, in the comments!
Join the FREE 1 Week 15 Minute Exercise Challenge
Workout Smarter, Not Longer.
15 minutes is all you need.
Full-length workout video send directly to your inbox each day
Self-care mini-challenges
Daily reminder emails
Accountability and Support