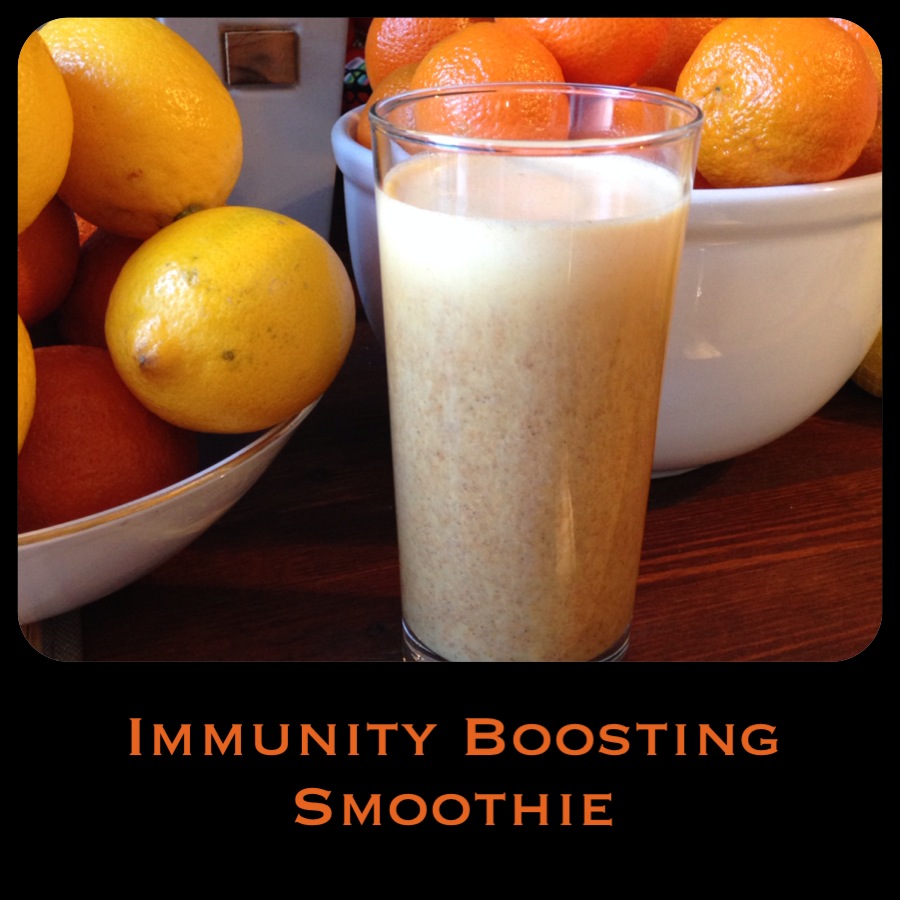 It's that time of year when everyone around you is getting sick, right? You're too busy to get sick. That's why I recommend you try my immunity boosting smoothie that helps ward off the cold and flu.
I'm not making any guarantees, but it sure helped me this past week. I felt like I was getting a sore throat thing, so I had a smoothie every morning, and along with a bit of extra sleep it didn't turn into anything. It's packed full of herbs and spices that are super beneficial for the body. I've explained some of the benefits below.
I'll be honest, it packs a punch – as in wow, that's a strong taste (not gross, but not necessarily delicious), but I've offered a few suggestions below to make it a little easier to drink.
I know, I know, I'm not really "selling" it when I tell you that, but hopefully the good-for-you outweighs the tastes-great. :)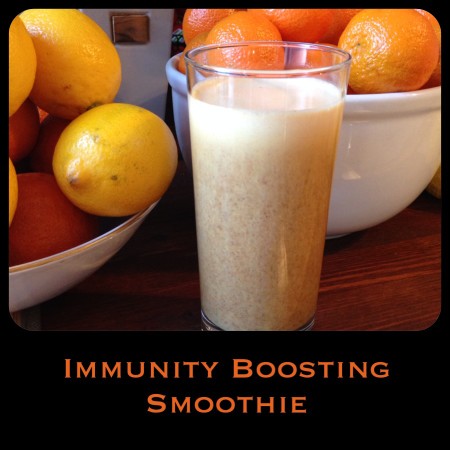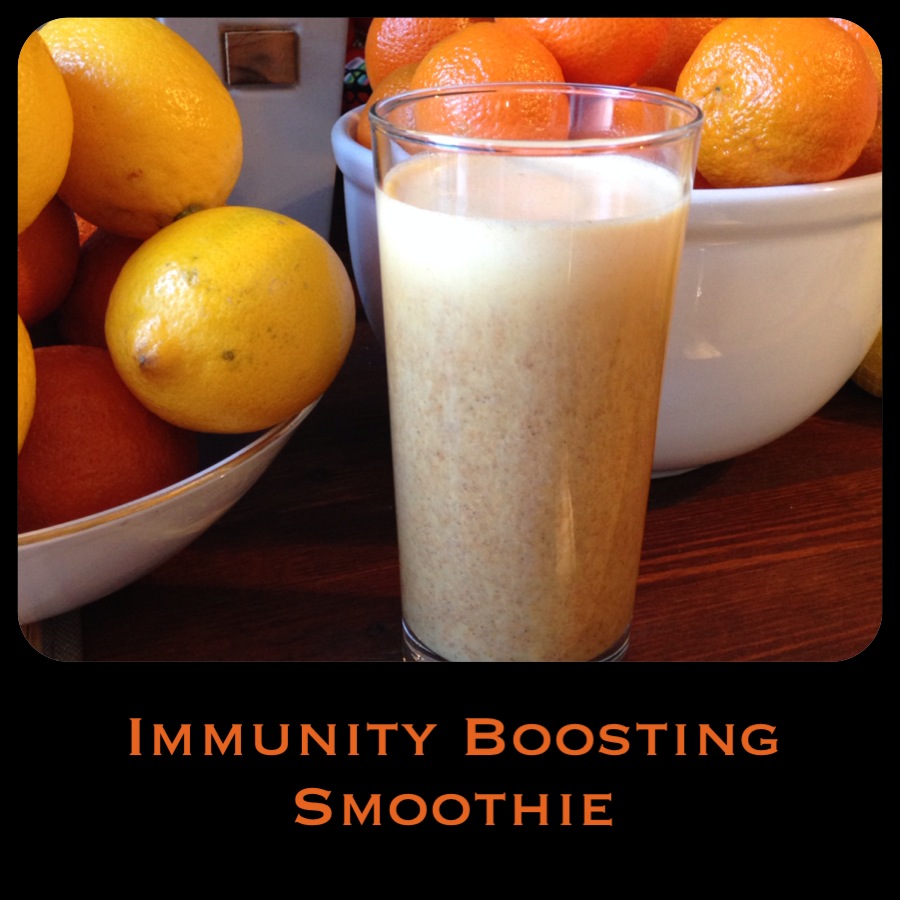 Basic Ingredients:
– 1/2 cup water
– 1/2 cup orange juice
– 1 Tbsp cinnamon
– 2 tsp ginger
– 1/2 tsp cayenne pepper
– 1/2 tsp turmeric
– 1 garlic clove (or 1 tsp garlic powder)
– 1 Tbsp honey (add a little more if you need it sweeter or try adding 1/4 cup raisins)
Place all ingredients in blender and mix until smooth.
Optional Ingredients:
(if you want to make the smoothie more like a meal, add some/all of the following)
– 1 scoop protein powder (I like it with Vanilla but any flavor is good)
– 2 Tbsp ground flax seed
– 1/3 cup quick oats
Benefits of the Spices
Here are some benefits and reasons why I chose those particular spices.
Cinnamon: Helps stimulate digestion and appetite, sooth an upset stomach, relieve indigestion, excess wind, and nausea, helps keep blood sugar levels balanced, very high in antioxidants, reduces inflammation, a good source of manganese, iron and calcium.
Ginger: Reduces nausea and inflammation, helps upset stomachs, gas and bloating, sore throats and colds in addition to other conditions, such as arthritis and motion sickness.
Cayenne Pepper: Helps stimulate circulation and improve digestion by increasing stomach acids and enzyme secretion, helps clear mucus congestion, and eases sore throats and coughs, thermogenic spice, meaning it helps to boost metabolism, found to help normalize blood pressure and cholesterol levels.
Turmeric: Powerful antioxidant, contains anti-inflammatory and anti-bacterial properties while helping to digest fats quickly.
Garlic: Heart-healthy spice, great source of antioxidants, anti-inflammatory and anti-bacterial properties.
Give the smoothie a try and let me know what you think!

FREE Download: Editable Pantry Basics Checklist
> SAVE TIME writing your grocery list. Avoid the constant re-writes.
> Use the Pantry Basics Checklist as the foundation of healthy eating.

> Make it EASY to eat healthy - ensure you have what you need in your pantry.
> Customize and tailor the list to your preferences.