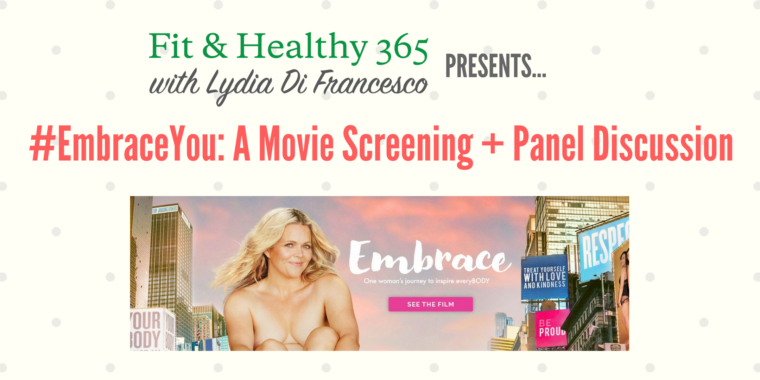 We need to talk. About body image.
It's a struggle that women of all sizes face and I'm on a mission to help women learn to love themselves more, to stop the negative shame cycle and ditch the comparison mindset.
The event will feature:
Movie screening of "Embrace"
A panel discussion on body image
A safe environment to openly discuss body image issues
An opportunity to pledge to be more kind to oneself and others
Experiential activities to help demonstrate self-love
Panelists:
Panel Moderator – Lauren Parsons, Wellbeing Specialist, Lauren Parsons Wellbeing Specialists
My goal is for you to leave with a more positive mindset and feeling of pride in who you are, no matter what you look like.
** There is limited seating and this event WILL sell out, so get your ticket fast!! Bring a friend and both of you SAVE! **
Proceeds from the event going to Hopewell Eating Disorder Support Centre.
---
Event Details
Date: Sunday, June 4, 2017
Time: 1:15-4:30pm, Doors open at 12:45. We will start promptly at 1:15
Location: Ben Franklin Place, 101 Centrepointe Drive. Free parking available on site.
All women 18+ are welcome!
---
About the Movie
Embrace is a social impact documentary that explores the issue of body image. Embrace is told from the point of view of Taryn Brumfitt as she travels the globe talking to experts, women in the street and well-known personalities about the alarming rates of body image issues that are seen in people of all body types.
Watch the Embrace Official Trailer
---
HUGE THANKS to our Sponsors and Supporters
Centre for Interpersonal Relationships
Francesca Dattilo, Lustrous Life Coaching
Alison Kelly-Quesnel of SupperWorks Nepean and Orleans
Samantha Clusiau-Lawlor, Graphic designer / Illustrator & Body Positive Artist
Lauren Parsons, Lauren Parsons Wellbeing Specialists