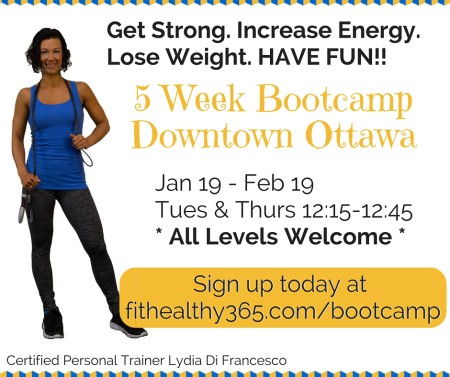 ** Winter Session – Registration OPEN **
Do YOU want some of these? Energy? Feel lighter? Stronger? More mindful? Less stress? You'll be surprised what 30 minutes of exercise and coaching can do for your body and mind. Come find out.
Join a small group of women getting fit and healthy in a fun and judgement-free environment.
In our 30-minute class, you'll tone and tighten all your muscles to help give you more energy, improve your cardio endurance, and increase strength. Instructed by Coach and Certified Personal Trainer Lydia Di Francesco.
Here's what Bootcamp Client Melissa has to say:
"I started Lydia's bootcamp to get back into a healthy routine and was impressed with her approach to fitness which is not only about exercise but also making those positive lifestyle changes that are small and do-able! Her bootcamp has energized me, after 6 weeks I feel lighter and stronger. I'm also more mindful of what I'm eating, drinking and stressing about. Her tips and encouragement have helped get back on track."
Before you think that you aren't fit enough, I've gotta tell you, the bootcamp is suitable for ALL levels. I show options from beginners through to advanced. You choose your pace and intensity (with some gentle pushing from me) :)
Notice what Janice said:
"Lydia's Bootcamp has been a great experience! Over the past 6 weeks, I have gained the confidence I needed to work out properly, and the boost to my energy level and strength has been remarkable! Lydia is a personable, energetic, fun and encouraging instructor! I highly recommend her and classes to anyone!"
Both ladies identified an increase in energy and strength. Is that something you want?
The classes are basically semi-private training, with a very limited number of participants.
Because of that, you get individual attention, but spots fill up quickly.
Details:
• 5 Week Session – Jan 18-Feb 19, 2016
• Tuesdays and Thursdays
• 12:15-12:45
• 227 Nepean Street (at Bank St.) map
• Complimentary 15-minute personalized goal-setting phone call
Register Today
5 weeks (10 classes) – Jan 11 – Feb 19: $149
Tax not included. Payment is required in advance. No refunds given for a missed class.
Submit your Email to get advance notice of the Early Bird Specials!
By adding yourself to the list, you are under no obligation to purchase.
Join the FREE 1 Week 15 Minute Exercise Challenge
Workout Smarter, Not Longer.
15 minutes is all you need.
Full-length workout video send directly to your inbox each day
Self-care mini-challenges
Daily reminder emails
Accountability and Support