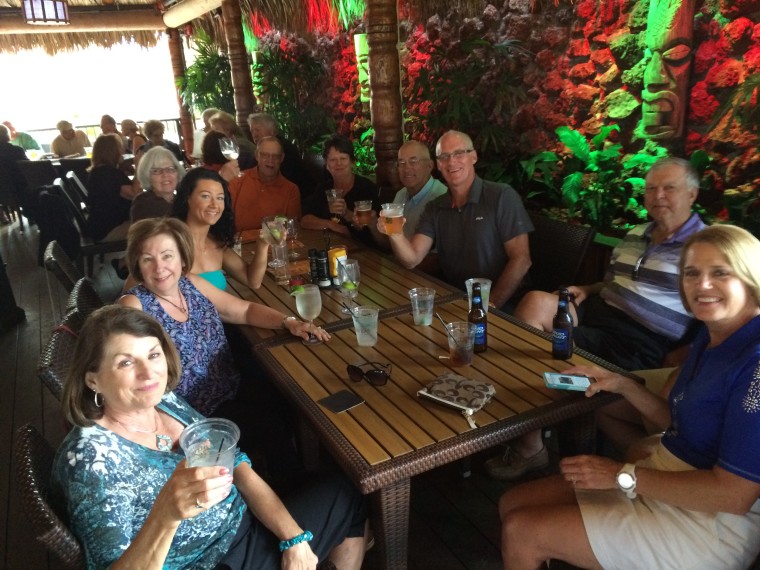 I spent a week being retired and I loved it!
To get away from the cold, dreary winter I spent a week living with relatives in their retirement community in Florida. These guys are busy and aren't your stereotypical "old people". In fact, I was the only one knitting!
Although I was living in a retirement community and acting the lifestyle, I actually did some work while I was away. In addition to filming six poolside full length workout videos for my **NEW** 15 Minute Workout Club, I was contemplating what made retirement living so great. Yes, no longer working and having that stress makes a difference, but it's not just that. Some of the people I met still have older parents to take care of and children to deal with, so it's not like all stress goes away once you hit retirement age.
In fact, I observed some behaviours and aspects of retired living that I believe can transfer into "regular" life and improve it.
Lesson 1: Don't Overschedule
Like I said, my relatives and their friends are busy. Their retirement community offers a lot! Golf, tennis, swimming, fitness center, various social and hobby clubs, evening entertainment, etc. The calendar of events is full!
However, most people don't overschedule and try to pack too many activities into one day. There's usually one daytime thing and perhaps an evening get together or outing.
I think the "busy" we often feel is actually overwhelm from trying to do too much, even if the activities are fun.
QUESTION: If you're feeling overwhelmed, what can you do less of to create some bandwidth? (And not so you can fill it with something else) Do a time journal for a day -> write down exactly what you do and for how long. I'll bet you'll find some ways to get more time.
Lesson 2: Spend Time with Great Friends
One of the best things about a retirement community is just that, the community. Even if you showed up not knowing anyone, you're bound to meet some people you click with.
My relatives have made some good friends ("the gang") and it's what they love most about their winter home, besides the warm weather. They initially rented a lovely spot on the water, but it lacked a community so they didn't stay.
I believe good friends are essential for a happier life. Sharing experiences and building memories enriches your life.
Friends support you when you're going through a rough time, celebrate the good times, and laugh with (or maybe at) you when you do something silly.
It makes me sad when I see threads on Facebook about people being too busy to spend time with friends. We've filled our lives too much (see lesson 1) that we don't have time for relationships.
QUESTION: When was the last time you spent quality time with friends? If more than a few weeks, reach out to a friend and invite them to do something. It doesn't need to be "fancy" or expensive. Sometimes a simple tea and chat is just what our soul needs.
Lesson 3: Dance Like No One is Watching
Monday nights there's live music at the Tiki Bar. Of course we went and had a great time! While I enjoyed the songs I recognized, what I really loved was people watching.
These old gals and guys were out there on the dance floor having the best time, with huge smiles lit up on their faces. What struck me was that they didn't care how they looked or whether or not they could dance (it varied). They were happily dancing away enjoying the music from their youth.
I think we all could do better caring less about what others think about us. To figuratively (and maybe literally) dance like no one's watching.
QUESTION: What's something you've been wanting to do, but haven't because of fear of what others might think? Do it! Be brave and bold! I think it takes some practice to be confident in oneself, but take at least one step today towards that feeling of freedom.
Lesson 4: Staying Active Keeps You Young
The fitness centers (there are 3 of them!) in the retirement community were quite busy every day and the golf courses always had players on them. Staying active and in good physical health was obviously a priority of many of the residents.
I commented to some of my new friends how my birthday is coming up and that I'll be closer to 40 than 25, but still feel like I'm in my 20s. They chimed in that they felt the same way (although in their case they felt in their 40s rather than their 60s).
We all agreed that it was staying active and in shape that made us feel younger than we are. According to some recent studies, staying physically fit, especially in middle age, promotes physical and mental sharpness more than at any other time. This is great news and provides some added incentive to create long-lasting healthy habits.
QUESTION: What kind of physical activity do you do on a regular basis? Do you feel it's enough to keep you healthy and in shape? If so, fantastic! If not, what could you change to make this happen?
Which lesson do you need to work on the most? Start with that one. Drop me a line to let me know which one it is and what your game plan is.

Join the FREE 1 Week 15 Minute Exercise Challenge
Workout Smarter, Not Longer.
15 minutes is all you need.
Full-length workout video send directly to your inbox each day
Self-care mini-challenges
Daily reminder emails
Accountability and Support